Post by hera on Jul 31, 2018 22:18:37 GMT
Hera of Adamo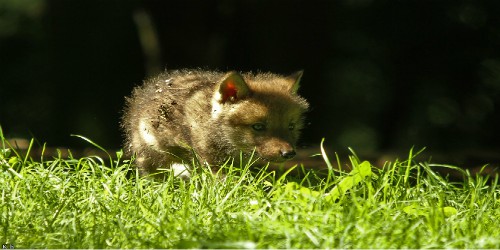 the basics
Pack • Future Adamo,

Power • please pick from the powers provided for you

Age • four moons old

Rank • Pup

Gender • female

Sexuality • straight
the appearance
Height and Weight • Puppy measurements: 25LBS | Adult measurements: 52Cm 67LBS

Identifying Features • None.

Overall Appearance •
Hera has what is called a fever pelt which means as she gets older her fur color will darken considerably. As a pup she as the natural fluff and soft puppy fur that bears a soft brown with hints of darker brown . almost black, that is mixed in to her fur towards the base at the skin. Her eyes are the soft puppy blue that will change to a warm honey brown as she gets older.

Currently she has her puppy form, short, squat and chubby but in her adult stage she will be long legged with a sharply pointed muzzle, bold eyes and large pointed ear. Her frame will be lithe and more on the small side which gives her the look of being rather weak or dainty.
the personality
Likes • There isn't really anything Hera dislikes in the world. She is a bubbly and accepting to almost everything. Her heart is as an open brook and seems to lighten her every step. She's loves running water, the songs a bird sings and the calmness of a lake at night. She loves a good storm and relishes in the idea that she might get her paws wet.

Dislikes • Hera truly has very few dislikes in the world but her major one is that she is different. She feels that she doesn't quiet understand her powers and is confused as to why they only work around water be it a lake, the beach or just a simple puddle.

Strengths • Hera's strength all seems to stem from her love for her 'Father' and her pack. She's a strong swimmer and decently fast at running.

Weaknesses • Fighting is a major weakness for this little pup as well as her family and friends as she would do anything for them.

Dreams • To understand where exactly her powers came from.

Fears • Loosing her father.

Overall Personality • Hera's personality will develop as she ages, changing from how she is now into a shy individual who only seems to have her eyes set on her 'father'. As she is now Hera is a rather bubbly and trusting pup who accepts anyone and everyone into her heart. She see's no fault in others and only wishes to make friends, especially to those who are friendless. But as she grow's you will see a great change in how she acts, her bubbliness has died down and she has become a more calm and level headed individual and because of her power and the fact that it comes and goes when she is near/around water she has become quiet and rather confused. Worried by the fact she is different she has distanced herself from the others in the pack and remained by her ''father's" side almost always. She's watchful and still loving in her quiet little way and very accepting of others.
the history
Father • Unknown Nereus Male wolf - Status unknown(Open for takers. PM me)

Mother • Unknown Nereus Female wolf - Status unknown(open for takers. PM me)

Littermates • Unknown. (Open)

Important Wolves • Alpha Appari : Known to Hera has her savior, Hera seems to idolize Appari and only seems to see him. She follows him about and sticks to him like glue and as if he were to leave her sight she would never see him again. As Hera grows her love for him will only grow and will prove to be a devoted little 'daughter' and loyal to the end. She will see him as her only friend and will be less shy around him then she is others.(This will be true once Appari finds her).

Overall History •
Hera doesn't remember anything from the time before she met Appari except a vague scent that reminds Hera of water and a rustic , flat, voice that seems to echo in her dreams. The faces of her mother and father are just mere shadows of blank and descriptive wolves.
-

Hera's parents belonged to Nerues Pack and from the outside they seemed to be the perfect pair, laughing and smiling and even creating a family together so why Hera was abandoned is a true mystery. Perhaps it was because of her power maybe it was because she was the smallest of the bunch and wasn't expected to make it all is known is that she was left far outside of Nereus territory to be found or to die from starvation and thirst.
the role player